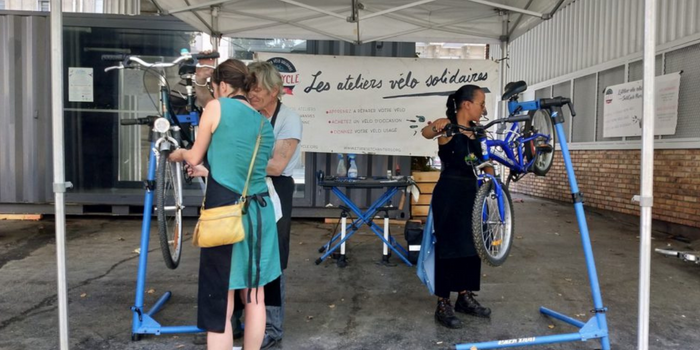 Getting started with self-propulsion of your bike
Bike breakdown? No problem! This week, MPP met Eric Joly, technical coordinator of SolicycleWe're here to offer you expert advice and tips on how to care for your bike and extend its life. 
Let's go, saddle up! 🚴♀️
Meeting with Eric de SolicycleSolidarity bike workshop
Hi Eric! Let's break the suspense...what is self-repair?
Hello! DIY is the action of repairing by oneself, of to repair one's own bike independently, to become a velonomist. At SoliCycle, self-repair has many challenges in addition to allowing a user to carry out the daily maintenance of his or her bicycle, the objective is to create a place for exchange or our teams of employees on a socio-professional integration programme will meet people from all walks of life and their to pass on the basics of mechanics around their bikes.
It gives self-confidence to people who have often lost it, makes them feel useful when they often feel rejected and makes bikes run longer because they are well maintained.
I often talk about the inversion of the pedagogical relationship, our teams often have experiences where they are simple executors, during the self-repair workshops at SoliCycle they have the opportunity to be the ones who pass on the knowledge.
In this way, we contribute to the empowerment of both our teams and the beneficiaries, with a circular economy flavour since we offer a large majority of spare parts from bicycles originally destined for destruction.
Cool, no 😊

Can you explain the concept and the functioning of Solicycle?
SoliCycle is first and foremost a project for integration through economic activity that recruits long-term jobseekers to offer them :
an employment contract,

enhanced support to remove barriers to sustainable employment,  

training in cycle mechanics
But it is also solidarity, social links, circular economy, promotion of cycling and strong people to make all this happen on a daily basis.
You want more, you want to know all the details of the SoliCycle project, you are looking forward to pampering your faithful steed, then now is the time to come and meet us directly at one of our our 7 workshops.
What problems can be easily remedied through self-repair?
Often, beneficiaries arrive with bicycles that have not received the care they deserve. They are sometimes in a sorry state. As much as motorists take their cars to the garage every year when they don't need to, we tend to wait until they're squeaking all over the place before we worry about them.
To answer, the majority of faults can be self-repairedOften the limit is the amount of time the rider is willing to give to the bike. Changing an inner tube for a professional usually takes 5/10 minutes; for a novice, it can take 5 or 6 times longer.
During the self-repair workshops we try to to pass on the basic knowledge that allows you to maintain your bike The first priority is to ensure that the equipment is in a working condition that meets safety requirements, and to teach the basics of diagnosing a malfunction. Then, depending on the beneficiary's appetite, we enter into more important operations. A bicycle is almost always repairableexcept when the frame is damaged.


What equipment is needed for basic repairs?
A hammer!
This is a difficult question, the tool requirements are different depending on when your bike was made.
A basic set of tools consists of an 8mm to 15mm open-end spanner, a small flathead screwdriver, a Phillips screwdriver, a set of 2mm to 8mm hexagonal spanners, 2 or 3 tyre levers, a pump and some patches, an adjustable spanner and a pair of pliers.
With this, a lot of repairs can already be done.
Today, the major retailers sell small tool kits, notably the famous multi-tools that correspond very well to the needs of post-2000 bikes.
What about self-repair for electric bikes?
An EAB is above all a bike, in general, between 70 and 80% of the bike is mechanical that leaves many things achievable in self-repair, nevertheless, the weight of the beast does not facilitate the maintenance if one is alone.
What would be your recommendations for prolonging the life of a bike?
Depending on the use :
At a minimum an overhaul every 1000kms about 6 months for someone who travels 10km/day to work.

Every week: wipe with a rag + a very fluid oil for the chain (never grease the chain)

Monthly: tyre inflation, brake check, speed check.
As soon as it does not work as before (squeaking, hissing, whistling, rubbing, cracking, clicking or whatever) go to a workshop for a diagnosis.
Finally, a tip or message to share with our reader cyclists?
If you want to go far, you have to maintain your bike! A wipe with a rag, a little air and a little oil and your bike will run well, and longer. We know you love him so show him, don't be shy, he deserves it! 🚲
This interview was conducted by Diane, always a pencil in the hands, a desire for nature
in the head and the Lord of the Rings soundtrack in your ears.