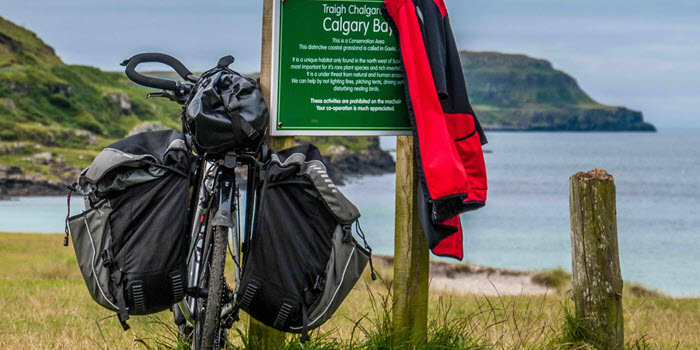 Cycle tourism is increasingly popular with the French. This environmentally friendly form of mobility meets the new expectations of holidaymakers (reconnection with nature, relaxation, etc.) and allows them to travel in a completely different way.
MPP gives you some tips on how to have a great cycling holiday!
Where to go?
France has many cycling routes. Among the most popular routes are: the Loire by bike (from Cuffy near Nevers to Saint-Brévin-les-Pins in Loire-Atlantique), the Vélodyssée along the Atlantic coast (from Roscoff to Hendaye), the ViaRhôna linking Switzerland to the Mediterranean (from Saint-Gingolph in Haute-Savoie to Sète) or the Nantes to Brest canal. Less well known, a cycle route exists between Paris and the Mont Saint-Michel, it is the Véloscénie.
Is going on holiday synonymous with 'going abroad'? You can also cycle in the rest of Europe, as there are 17 long-distance routes called " EuroVélo ". For example, EuroVelo 3 runs from Santiago de Compostela in Spain to Trondheim in Norway, a total of 5,300 km of trails.
Whichever route you choose, don't forget to find out how difficult it is. Each route has a dedicated website detailing all the stages proposed (number of kilometres, level, etc.). Also, " Lonely planet "and " The backpacker In the meantime, the "Cyclist's Guide" has been updated and many books on cycle tourism have been published.
In short, there is something for everyone!
What about the organisation?
You have two options: you can either hire a company that organises tours, or you can organise them yourself. In the first case, the organising company takes care of booking the accommodation, renting the bikes and even transporting the luggage between the hotels. In the vast majority of cases, these are stays of a few days. If you are in the second case, here are some tips on how to best prepare your trip.
The train
You want to reach the starting point of your cycle route by train. Please note that reservations are sometimes compulsory, especially on TGV trains and TER trains in certain regions (e.g. Brittany in summer). There are reserved compartments where you can hang your bike after removing the panniers.
Housing
It all depends on what you want. Some campsites have pitches reserved for cycle tourists. In the high season, reservations are highly recommended. Accommodation such as hotels and guest houses that have the "Accueil Vélo" label guarantee a place for your bike, or even the possibility of carrying out repairs.
Restoration
Cycle route towns often have restaurants. However, it is sometimes difficult to find a vegetarian and vegan alternative in some places. Also, it is difficult to find a restaurant open on Sundays and Mondays in small towns. It is advisable to have a minimum of cooking equipment, including a stove, cutlery, plates and a saucepan. Zero waste tip: don't forget to take a few cloth bags on holiday and look out for bulk grocery shops. You can also find out about market times, which offer an interesting range of fresh, local and seasonal fruit and vegetables.
The material
- Cycling : You can rent your bike (e.g. Decathlon if you live in a big city or directly on site). Take a bike that is light enough but resistant to the weight of the panniers. Also remember to take anti-theft devices for the bike and for the panniers.
- The bags : They should be waterproof to keep your stuff dry. Don't overload them to limit your effort on the journey.
- Clothing: You can take three days' worth of gear. Shorts are a must, as well as breathable T-shirts (linen or hemp for example) and cycling gloves. You don't need to buy new, you can easily find all this on the internet (example: Vinted).
- Toilet bag : Marseille or Aleppo soap can be used as body soap but also as washing powder for your clothes and dishes. The ideal is to have other zero waste products: solid or returnable toothpaste, solid shampoo, toothbrush with refillable head, returnable sun cream (ex: Cozie).
- First aid kit and repair materials : bandages and disinfectants will be essential for your trip. For the bike, patches, a pump and a tyre iron are essential. Ideally, practice changing an inner tube before you leave.
For campers : a light and compact tent (avoid 2-second tents) is ideal. Some facilities offer these for hire. You will also need a sleeping bag adapted to the night temperature (indicated on the bag), a mattress (inflatable or foldable) and possibly a pillow (inflatable for example).
This article was written by CarolineHis motto is "be the change you want to see in the world".