What would a world of soft mobility look like?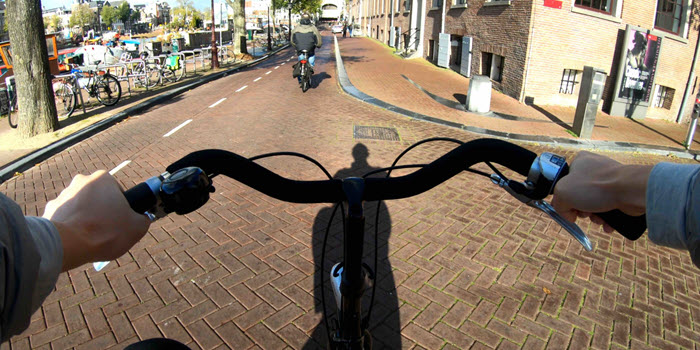 Soft mobility refers to all non-motorised travel. In this article, MPP wanted to imagine what life would be like in a world based on this mobility.
Join us in the (soft) rocket to Earth 2.0, the Earth that uses only soft mobility!
"Today is my first day on Earth 2.0, in my hometown, also 2.0. I don't like jet lag, let's go for a walk in the city!
The first thing that impresses me is theabsence of noise. In Europe, 20 % of the population is chronically exposed to noise levels detrimental to human health, mainly caused by mobility (according to ADEME, mobility accounts for more than 66 % of the social costs related to noise). In addition to being tiring (noise deteriorates the quality of sleep), prolonged exposure to noise can create stress (and therefore cardiovascular diseases), and hearing disorders. And this generates a cost for society: more than 147 billion euros are used each year to alleviate these problems (hospitalisations, isolation...).
Continuing my walk, I arrive at a park where I decide to rest. I realise that I am sharing the park with many more women than just me.aune and flora. I think to myself that theno air pollution This is not a bad thing! Air pollution directly causes 9 million deaths per year worldwide, not to mention the damage to pollinating insects and, thus, to plants.
Soft mobility also helps limit global warming on Earth 2.0! On my home Earth, mobility accounts for 24.4 % of greenhouse gas (GHG) emissions. In this world 2.0, the global warming is more moderate and the extreme weather events that can be experienced are thus limited.
I'm getting used to this parallel Earth, life is much more peaceful!
Then, a moment of relaxation with my friend Diego: we go for a drink. While chatting, I become aware of the many benefits I hadn't even thought of: soft mobility improves thephysical activity. This world has far fewer health problems and road accidents, thanks to this "gentle" philosophy of life.
In reality, a transition is not necessarily very complicated: a bicycle is much more economical than a car and 50 % of journeys are less than 5 km in France. Especially since, in urban areas, the bicycle is often faster than the car (according to Google Maps, a bike goes on average 15km/h against 14km/h for cars). 
For long journeys, Diego tells me that there are many ways to get around: the slow-travel (travelling by taking one's time), non-motorised modes of transport that help to travel longer distances, or cargo bikes for carrying heavy loads.
At the end of the day, I am convinced by this much more sober and peaceful way of life.
My first day on Earth 2.0 will also be my last: back on Earth 0.0 to implement these habits and try to raise awareness among those around me!
This article was written by Hugopure product of the South-West (Certified Organic Agriculture)