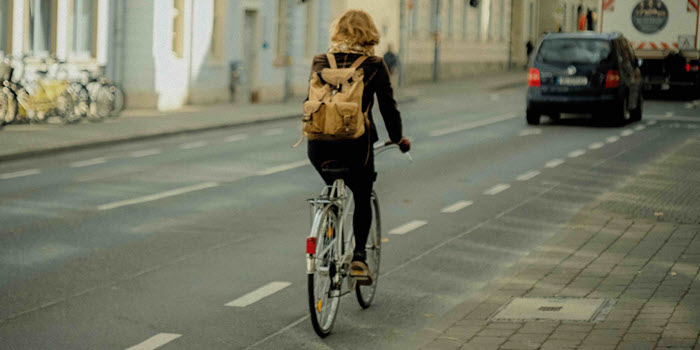 A short guide to start cycling
Can you combine your daily commute with physical activity while protecting the environment? It's possible with the velotaf! This week, MPP gives you some good advice on how to get started with this practice, which consists of commuting to and from work... on a bicycle, so that you can do some sport without any trouble.
Getting started: which bike to choose for work
These bikes are ideal for getting started in bike-sharing and are available in many cities, allowing you to try out this new activity without investing in your own equipment straight away. Most of the time, there is a mechanical version and an electric version of self-service bicycles (Vélib in Paris, Vélo'v in Lyon, Le vélo in Marseille etc).
Acquire your own bike: electric? Mountain bike? Road?
If you like it, you can get your own trusty steed! There are many models to choose from, to suit different needs:
the city bike - A little heavy, but very comfortable, ideal for flat tours.
the bicycle - With the advantage of a vintage look and an all-purpose model, they are generally light and suitable for short journeys.
the electric bicycle (or VAE)) - if you ride a lot of kilometres and/or need assistance, an electric bike can be a good option. And if you're wondering about the environmental impact of using an E-bike, we invite you to dig deeper with this ADEME simulator and this article which examines the impact of the production and use of this type of bicycle
the road or racing bike - Rather, it is intended for those who want to cover a lot of kilometres regularly and who are looking for speed and performance.
To invest in a second-hand model, you can turn to platforms like LeBonCoin, TrocVéloor Decathlon Occasions.
One of the first accessories that will quickly become indispensable when cycling is the anti-theft device. More than 400,000 bicycles are stolen in France every year, or 1,100 bicycles a day according to Planetoscope. So it's best to get good protection to avoid nasty surprises. Locks have a strength rating, the scale of which varies according to the brand, but which can give you an initial idea of the strength of the equipment. The safest locks are generally U-shaped locks, which are the most difficult to cut.
To secure your bike, it is advisable to secure the frame and front wheel with a first lock and the rear wheel with a second. Make sure that you secure your bike to a fixed point.
If you have a nice saddle, or one that is easy to unscrew, remember to take it off when your bike is parked, or also secure it with a cable attached to your lock.
If you want to go even further in securing your bike, you can opt for marking. Now compulsory in France when you buy a bike from a dealer, marking is a sort of number plate for your bike, which allows you to declare yourself its owner. In the event of theft or loss, this simplifies the search and makes it more difficult to resell a stolen bike. Several alternatives exist, including Bicycode, Paravol, Recobike.
In the city, especially when riding a bicycle, there can be risks if the safety rules are not followed by everyone. For your safety, we recommend a quick reminder of the traffic rules for cyclistsbut also the classic highway code.
Don't hesitate to have your bike serviced regularly. It is advisable to check your brakes every 3 months, to reinflate your tyres every month, to grease your chain and lock once a month and to have your bike serviced at least once a year.
How to equip yourself for the velotaf?

Here are a few tips to make your cycling trips easier.
Cycle route: Planning your home-office trips
To avoid getting lost or having to check your phone on the road. GeoBikeThis French initiative allows you to choose the most suitable routes for cycling (with few differences in altitude, with a maximum of cycle paths, etc.) but also to consult cycle touring routes for the weekend. If you are worried about not remembering your route, there are phone holders that can be attached to the handlebars to keep your GPS open during your ride.


Vélotafer all year round!
This requires a bit of organisation, especially when the weather is not so good. In case of rain, please come prepared!
There are some great cycling ponchos to keep you dry: the cape is big enough to protect your legs if it's not raining too hard. If you're not a fan of the poncho style (we love it!), you can opt for the special cycling rain trousers, coupled with a waterproof jacket. All second hand of course!
Finally, to get you going right between showers, applications like RainToday allow you to see the risk of precipitation within the hour, minute by minute.


Are you a backpack or a satchel? 
Between the computer, the lunch, the little jumper "just in case", it is difficult to leave with your hands in your pockets. To avoid carrying a backpack that can get in the way of your ride, you can opt for panniers that attach to the rear rack, baskets that attach to the front and/or back of your bike, or even backpacks that are specially designed to attach to the sides of your bike during your ride.
To stay motivated, the tips of the bike rider 
So you've started cycling? Now how do you stay motivated and turn this new practice into a good habit?
Gamifying your bike ride (i.e. make it fun)

Earning points on MPP: among our iconic challenges, you can take on "Life is nicer by bike" which consists of cycling 20km in the same day OR doing a week of "velotaf". It will be that much easier for you to perform at the next edition! 😉
If you are motivated by personal progress and achievement, track your activity with an app like Strava can give you another flavour to your cycling trips. You will be able to track your speed, distances covered, and get statistics on your cycling.

Co-pedaling : There's nothing like sharing all or part of your journey with your favourite colleagues to motivate you. Identify the colleagues who live on your route (or vice versa) and organise a convoy of bike riders!
Getting reimbursed for mileage expenses by your company with the Sustainable Mobility Package, which helps employees with their home-to-work travel. This scheme is not compulsory, but can be discussed with your employer. To find out more, we invite you to consult this Government FAQs.
And if you still have doubts about the importance of cycling, we urge you to read this advocacy for the bicycle by Bon Pote and BL Evolution!
This article was written by SaloméA fan of Dauphiné ravioli, and a bit of a chauvinist.