Sarah, the Great Zizou of ecology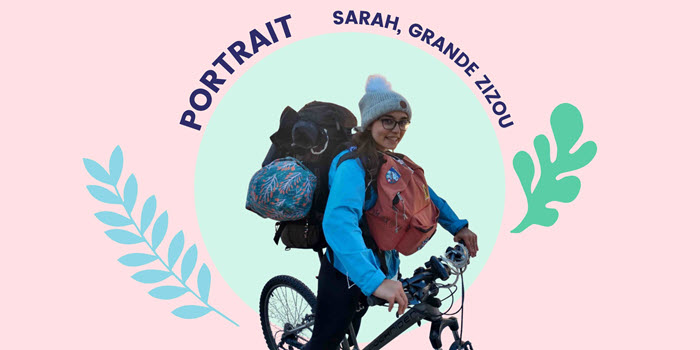 Sarah, the Great Zizou of ecology
Meet Sarah, Art Director in Graphic and Web Design in Aix-en-Provence and... the Great Zizou of ecology Spring 2022 edition!
Hello Sarah! Would you like to introduce yourself?
I love to play games and get others to play (I can make a pile bigger than me with my board games). I am very contemplative, I marvel at everything around me, don't ask me what my favourite season is, I love them all! I cook a lot, especially for others and I put my heart into it. I love a lot of art forms and I never get tired of learning! I start every day with 1 hour of sport, 30 minutes of prayer, 30 minutes of mass... and less than 4 minutes of shower 🤣 I rarely go anywhere without my bike!
What made you decide to get involved?
"The Scout sees in nature the work of God, he loves plants and animals. This is an article of the scout law, I think that after my education, it was by spending my weekends in contact with nature that I learned to respect and love it. I was only doing tiny gestures, then 4 years ago I really questioned myself and I really had this desire to go further! MPP really allowed me to take the plunge on many levels where I really needed to progress.
What is your motivation for the planet?
The beauty of our Earth as it is. Slowing down to better respect this Earth, others, oneself. I don't understand how we can still say to ourselves "it's not a big deal", in many situations that are a big deal for nature or for someone else. I'm motivated because it's up to everyone to do something about it, and I'm the first.
Great Zizou after 5 participations: what do you like so much about the MPP challenge?
Educate through play! This is really a notion that I like and which is the very principle of the challenge!  What is your favourite green reflex? Homemade, because I love to cook so much, because it reduces the size of my bin, and because it's better in every way!
What is your next ecological challenge?
I still have some work to do in the long run! Starting with the 5000 tabs I leave open, thanks MPP for making me aware of this!
Thanks Sarah 🌞 See you soon for a new portrait!